Samael
Biography
Few bands have been able to successfully explore the darker sides of metal, and at the same time challenge and satisfy themselves as progressing musicians like Switzerland's own Samael. Though the band's music and appearance has always been somewhat evil and mysterious, one cannot help but agree that Samael's career has been nothing short of illustrious. They are complete innovators in their field, possessing a never-ending hunger for improvement and creative advancement to go along with a worldwide fan base. Samael's death metal roots quickly became too tight of a parameter for the band, and early albums Worship Him and Blood Ritual only hinted at their songwriting creativity. It wasn't until 1994's Ceremony Of The Opposites album that the band fully lived up to their potential. Concocting wickedly heavy songs that retained a grandiose feel, one that belied their ambition to transcend death metal's self-imposed constrictions. The fact that the Universe is made of contradictions and opposites is the basis of Samael's philosophy, and has always been the central thread through their steady progression. Their 1996 successful breakthrough album Passage saw brothers Vorph and Xy explode into a realm of limitless imagination and dark, perilous songwriting. Melding wicked riffs, stark lyrics and a menacing, oddly enchanting atmosphere to the songs that can be best described as macabre operettas, Passage offered the most diverse Samael material to date. In fact, all of the drums for Passage were programmed, a move which required meticulous work on Xy's behalf (more so than playing them live would have required). This was just another example of Samael's desire to keep one step ahead of the pack. The purpose of life is not merely to follow one restrictive path, but to experience all of the elements and to assimilate the best aspects from all your experiences. The same goes for the music of Samael, which is not concerned about the purity and preservation of any one restrictive style but instead takes daring steps with each new recording. When this principle was more of a technical nature on Passage and the ensuing 1998 EP Exodus (metal guitars vs. technology) the dialectics were transferred deep into the compositions and therefore into the aesthetics of their new release, Eternal. The latest Samael album lives and breathes incredible dynamics generated by the atmospheric passages carried by electronic sounds and heavy beats, as well as majestic and powerful guitar-driven refrains. What was a monolithic, magnificent wall of sound until now widens into a third dimension, gains depth and pulls the listener into sparkling structures that are bathed in the purity of bright light, yet also conceal darkness within their shadowy confines. Produced by David Richards (Rolling Stones, Queen) and recorded at Montain Studio (which has housed such rock greats as Deep Purple and Frank Zappa), Eternal once again offers the band's most dramatic and challenging material. The opening cut "Year Zero" is reminiscent of the last couple of Samael releases, while the staggered and very progressive sounds of "Ailleurs" and "Us" (which contains some of the most astonishing melodies the band has ever written) show the band is still growing in terms of creativity. The steady, thunderous driving of "The Cross" is another of the album's highlights, as well as the perverse and traditional feel of "Supra Karma". Samael's goal is and always has been to free the mind from its self-centered state and let it glide into the cosmos - and they have never before managed it as successfully as with Eternal.
.........................
All throughout the '90s, Swiss act Samael was busy pushing the boundaries of black metal, dropping all the standard frozen aesthetics and playing with electronic sounds. While there was still plenty of occult and anti-Christian sentiment, Samael always played to the beat of a different drum. Many fans didn't care for just how different that beat got several years later, when the band could more accurately be described as an industrial or even symphonic outfit. Long time fanatics should brace themselves as the prodigal son returns to its roots and produces a sound that reminds the world why Samael was so highly regarded in the first place.
As though trying to make up for the less aggressive albums, Samael's last release, "Above," was unnecessarily harsh and heavy, with a production that made all the songs bleed together into one mass of incompressible screams. It seems the band learned a valuable lesson from that release, as "Lux Mundi" has a much more organic and fluid production, and all the instruments get a chance to shine. From front man Vorph's distinctive growl to the melodic and menacing guitar work, all the best Samael elements are put on display.
The production and song writing style clearly brings to mind Samael's 90's era work, with some modern sensibilities. Generally the keyboard and electronic parts play a supporting role, with shorter intro or interlude segments that have a bigger emphasis, which leads to an overall heavier experience that still has loads of atmosphere. The electronic programming is used to vary the tone of each song, giving the various tracks a distinct feel.
Not simply a return to old sounds, the album is also a rising new dawn that combines the various styles heard throughout Samael's impressive two decade career. The songs "The Shadow of the Sword" and "The Truth is Marching On" strike the best balance between the "Reign of Light" era and the "Passage" era, with just enough electronic sounds to match the fast paced guitar work. "Mother Night" gives a heavy take on the idea of a ballad, while "Pagan Trance" gives a nod to the band's mystical roots. "Soul Invictus" is also worth a special mention, with a thundering drum beat and swirling dual guitar rhythm that is nearly trance inducing.
The album is clearly trying, and mostly succeeds, to be a successor to the "Passage" album, with only minor speed bumps. "Lux Mundi" is undoubtedly among the best of the band's offerings and an album that will bring Samael defectors back to the fold.

Members:
Current members:
1987- Vorphalack - vocals, guitar
1987- Xytras - drums, keyboards, samples
1987- Christophe "Masmiseim" Mermod - bass
1999- Makro - guitars
Former musicians:
1987-1988 Pat Charvet - drums
1994-1995 Rodolphe H. - keyboards, samples
1996-1999 Kaos - guitars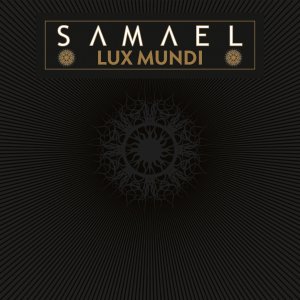 Tracklist:
Samael - Lux Mundi (2011)
01. Luxferre (3:50)
02. Let My People Be! (3:49)
03. Of War (3:42)
04. Antigod (4:04)
05. For A Thousand Years (3:14)
06. The Shadow Of The Sword (3:50)
07. In The Deep (4:02)
08. Mother Night (4:19)
09. Pagan Trance (4:20)
10. In Gold We Trust (3:29)
11. Soul Invictus (4:19)
12. The Truth Is Marching On (1:02)
web (avg. bitrate: 192kbps)