Torrent's details
SNFU - Discography (1984-2004)
SNFU - Discography (1984-2004)
SNFU - Society's No Fucking Use


SNFU is a Canadian punk rock band formed in Edmonton, later relocating to Vancouver, in 1981. They have released nine full-length albums and are cited as a formative influence on the skate punk sub-genre.

The band came to fruition amid the inchoate Canadian hardcore punk scene of the early 1980s. Coupling raw and horrific lyrical imagery with a dynamic punk sound, their 1985 debut album, ...And No One Else Wanted to Play, has remained influential. The group expanded its audience and style through two further studio albums, but disbanded in 1989 due to internal tensions.

They reformed two years later, playing new material that was comparatively refined while still iconoclastic. The reconstituted group garnered a recording contract with the prominent indie label Epitaph Records, which was followed by six-digit record sales and high-profile touring in support of numerous larger groups. They became independent in 1997 after a split with Epitaph and endured a second breakup in 2005 before again reforming two years later.

They are fronted by the sardonic singer, lyricist and artist Ken Chinn (known as Mr. Chi Pig), currently their only original member. Twin brothers Brent and Marc Belke helped construct the band's melodic hardcore punk sound with dual guitar work before their respective departures in 1998 and 2005. The group is presently completed by guitarists Ken Fleming and Sean Colig, drummer Jon Card and bassist Denis Nowoselski.





Members:

Current members:

Ken Chinn (Mr. Chi Pig) – vocals (1981–1989, 1991–2005, 2007–present)
Jon Card – drums (1985–1986, 1991–1992, 2010–present)
Ken Fleming – bass (1992); guitar, backing vocals (2007–present)
Denis Nowoselski – bass, backing vocals (2008–present)
Sean Colig – guitar, backing vocals (2010–present)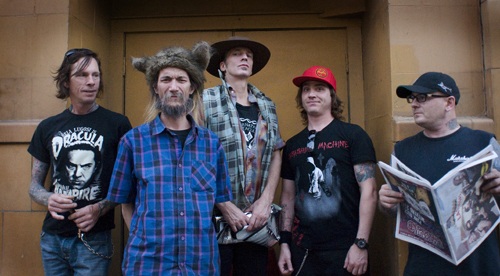 Discography:

1984 - ...And No One Else Wanted to Play [CBR 320 kbps]
1986 - If You Swear, You'll Catch No Fish [CBR 320 kbps]
1988 - Better Than A Stick In The Eye [CBR 320 kbps]
1991 - The Last of the Big Time Suspenders (Compilation) [CBR 320 kbps]
1993 - Something Green And Leafy This Way Comes [CBR 320 kbps]
1995 - The One Voted Most Likely To Succeed [CBR 320 kbps]
1996 - FYULABA [CBR 320 kbps]
1998 - Let's Get It Right The First Time (Live Album) [VBR 192-320 kbps]
2000 - The Ping Pong (EP) [CBR 320 kbps]
2004 - In The Meantime and in Between Time [CBR 320 kbps]




Rock
-
802.77 MB
--
2018-11-16
2824
Seed(s): 2824, Leecher(s):0
N/A
16/06/2012 06:16:24
User Register Online
Total online: 1
Guests: 1
Users: 0